STRAMMER is attending the BCF Career Event in Belgium
Thursday, November 16, 2017
More than 80 companies are participating today in the BCF Career Event taking place at the Ghent ICC- International Convention Centre in Ghent, Belgium.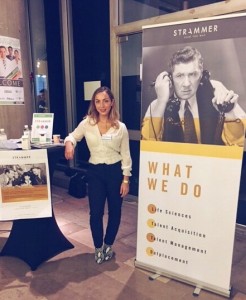 Benoit Duvivier and Mariam Nazghaidze are representing STRAMMER in the BCF Career Event of 2017.
The BCF Career Event is organised by Hyphen Projects since 2005. This event is prominent for both job seekers and companies who are specialising in the sector of Biotech, Life Sciences, Pharma, Food, and Chemistry. One of the first Belgium edition received more than 1200 international visitors. During the event, visitors can visit booths with over 80 different companies and get in touch with employers to get an insight on career opportunities. Additionally, for employers, the BCF Career event is an excellent platform to recruit candidates and find the right fit for their organisation.
This year the BCF Career Event can help you take the next step in your career. From LinkedIn portrait photos, CV-checks to networking organisations, the BCF Career Event can help you with a variety of services which can enhance your working environments. STRAMMER has a booth at the event so don't forget to drop by and introduce yourself to us! We will be more than happy to help you with questions you may have regarding your career.